What makes a great knitted gift? Items that have a wide appeal, are not difficult to fit and can be knitted without undue labor or expense are ideal. They are fun to knit, fun to receive and make it easy for the knitter to be generous. This is a collection of small projects that fit the gift-giving profile. The wording in these patterns is the kind those who knit on Japanese machines are accustomed to except that it is not abbreviated at all. The patterns can be accomplished on other machines so chapters on help for Passap knitters and hobby machine knitters are included. Passap knitters must use different fairisle cards than the 2 given. Knitting for re-sale and charity is fine.
TABLE OF CONTENTS:
Paisley Purse, Bias Scarf, Magnificent Mittens, Special Day Pillow, Fast Fun and Furry Pillows and Purses, Little Red Riding Hood. Microfiber Bath Basics, Lap of Luxury Mittens, String Satchels for All, The Perfect Poncho, Afghan for Everyone, Think Mink
Help for Passap Knitters, Help for Hobby Knitters.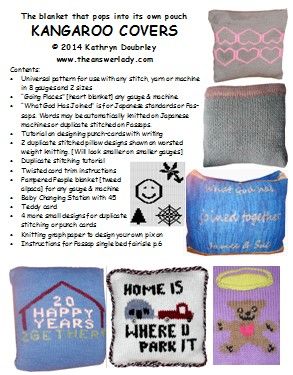 Contents: *
Universal pattern for use with any stitch, yarn or machine in 8 gauges and 2 sizes
*"Going Places" [heart blanket] any gauge & machine.
*"What God Has Joined" is for Japanese standards or Passaps. Words may be automatically knitted on Japanese machines or duplicate stitched on Passaps.
*Tutorial on designing punch cards with writing
*2 duplicate stitched pillow designs shown on worsted weight knitting. [Will look smaller on smaller gauges]
*Duplicate stitching tutorial
*Twisted cord trim instructions
*Pampered People blanket [tweed alpaca] for any gauge & machine
*Baby Changing Station with Teddy card
*4 more small designs for duplicate stitching or punch cards
*Knitting graph paper to design your own pix on
*Instructions for Passap single bed fairisle
Selecting this button buys you Kangaroo Covers for $20


Your book will be delivered by Ravelry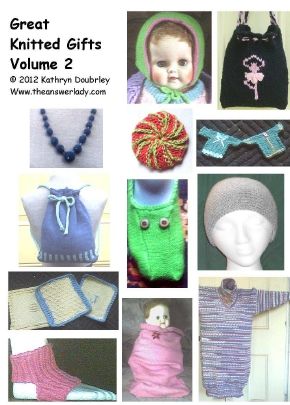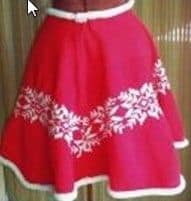 Table of contents:
Half Hat [Ribber required], Upside Down Lounger, Quick Pack, Model T Baby Bonnet, Ballerina Bag, Fabulous Felted Beads, Nubby Scrubbies, Baby Bag, Exer-socks [ribber required], Non-Slippers, The Clean Team: a trio of dish/wash cloths, Sweater Garland, Festive Skater's or tree skirt-Bulky and standard versions only. Requires patterning ability. Unless otherwise noted, each pattern may be knitted on a standard, mid-gauge or bulky Japanese style of machine. Bond and Passap machines may also be used. Bonds and Passaps will need to make some slight adjustments. Read about these on page 36 SELECTING THIS BUTTON BUYS YOU BOTH VOLUMES OF GREAT KNITTED GIFTS


Your download will be delivered by Ravelry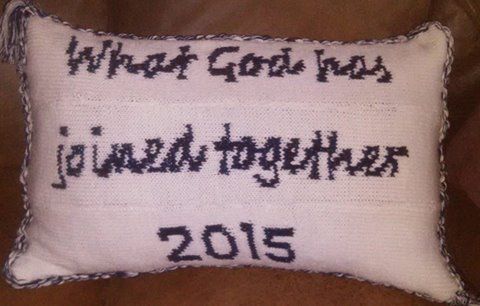 Here's something else that can be done with the punchcard in Kangaroo Covers. I'll get some instructions up here asap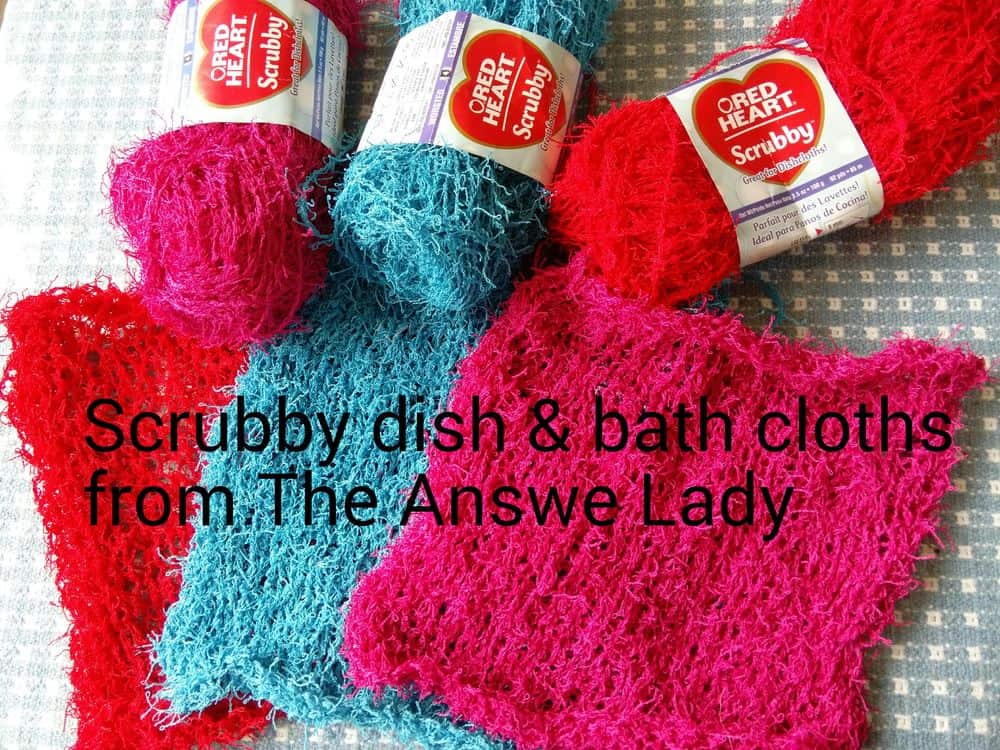 Red Heart Scrubby yarn is sold at Walmart. These make great quickie gifts for others or yourself using the bulky or mid-gauge machine. The yarn does all the work! Cast on in chain stitch 24 stitches on the bulky or 22 on the mid-gauge but mid-gauges use every other needle. Hang comb and weights. Pull out a bunch of yarn so it will feed freely. Adjust mast tension to very low and stitch dial to maximum size. Knit 36 rows on the bulky, 29 on the mid-gauge. Bind off using a chain stitch method. Weave in ends. Resulting cloth will be about 7" square. Edges roll slightly. I love the texture for both bathing and dishes. The yarn is polyester so it doesn't mildew as cotton cloths sometimes do. Each skein makes 2 or more cloths. Mid-gauge version will be a more open fabric than bulky version but it still scrubs well. Using every needle on the mid-gauge is not advisable.