Over the last few years, I have knitted hundreds and hundreds of hats. Some of them have been for friends, family and self but many have been for the Country Knitting of Maine "Keeping Maine Warm" charity. This effort has resulted in a lot of hat patterns, some of them are very quick and easy to facilitate charity knitting. These patterns are now getting organized into collections for you to enjoy.
"Stripping for Charity" may seem an outrageous thing to do. You may think blushingly, "I would never!" or possibly, depending on your body image, that stripping would be no charity. Be calm. The title refers to strip knitting. This is the practice of knitting simple shapes in long strips with waste yarn in between. It is an enormously efficient way to knit a lot of hats. They don't have to be boring hats. One may achieve a lot of style and variety within the strip knitting discipline. These books explore the possibilities.
NEW! The first "Hats With Character" book has proven to be such fun that more silly hats seemed needed. These are just as easy as the first batch and just as much fun. As usual, you have permission to make these for sale if you wish.
"Keeping Maine Warm" is administered by Linda Williams, publisher of the Country Knitting of Maine News and Views magazine. I design for the magazine and knit 100 hats per year for the charity. The charity works in conjunction with an annual contest. I offer an incentive gift for anyone who will join me in knitting and dontating 100 hats. To read more about it and join in, see the magazine or visit Linda's website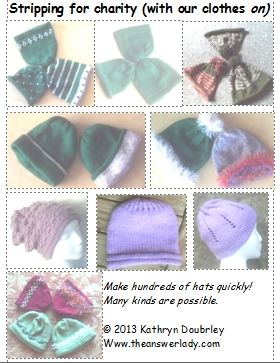 Table of contents for Stripping for Charity:
Hats by the yard page 3
Plain hats page 6
Slouch hats page 10
Fur trimmed hats page 13
Lined hats page 16
Knit weaving page 19
Fairisle trim page 23
Garter hem hats page 28
Peekaboo lace page 31

Hats by the yard includes head circumference of 19-22". Stripping for charity hats include head circumference of 14-22" which includes the sizes from small babies to XL adults.

All patterns may be knitted on standard, mid-gauge and bulky machines. Passaps can knit most of them. Hobby machines are acceptable.
Like, "Stripping for Charity", the character hats at right may be knitted in long strips of hats and finished once they are off of the machine. A few minutes of extra work through short-rowing, the addition of ears, eyes and embroidery makes these plain hats into amazingly adorable characters.





$10.99
your book will be delivered by Ravelry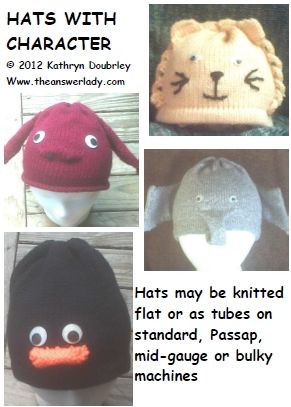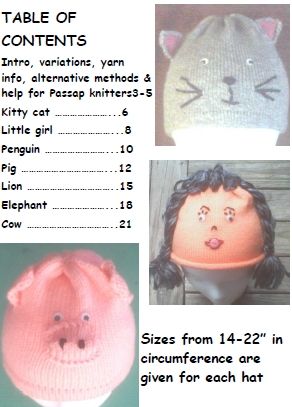 All of the character hat patterns are worked using Tamm Bebe yarn. 1 strand knits on the standard, Passap and mid-gauge. 2 strands together knits on the mid-gauge and bulky. Should you wish to enlarge the color options, Tamm Nordic knits at the same gauge as 2 strands of Bebe and offers some darker colors.
$12.99
Your book will be delivered by Ravelry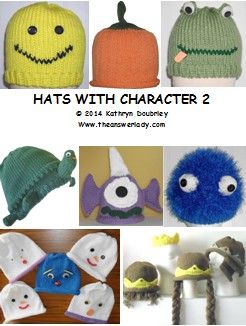 TABLE OF CONTENTS
Hem & crown options
Happy Hat in 5 sizes and 3 gauges. Sized for babies to large adults and works on any machine. Includes duplicate stitching instructions and smile chart
Snowman and Associates is the same basic hat design as the Happy Hat in the same sizes and gauges. Easy embellishment techniques create the faces
Frog Hat …..Built like Happy Hat with the addition of short-rowed eyes, duplicate stitched mouth & appliquéd tongue
Spider Hat...built like Happy Hat with the addition of eyes & legs
One Eyed One Horned Flying Purple People Eater in 8 sizes and 2 gauges to fit any wearer and be knitted on any machine
Monster Hat in 4 sizes for bulky and standard machines
Crowning Glory in 4 sizes that fit from children to large adults and 2 gauges, one of which will work on any machine. This is 4 versions of a crown hat
Pumpkin Hats in 9 sizes that fit from babies to large adults and 2 gauges, one of which will work on the standard, Passap, mid-gauge or bulky machine.
Turtle hat in 3 sizes with 17, 19, 21" circ. gauges for bulky and standard
Tips for furry yarns
Passap notes & notes on creating your own characters
$12.99
your book will be delivered by Ravelry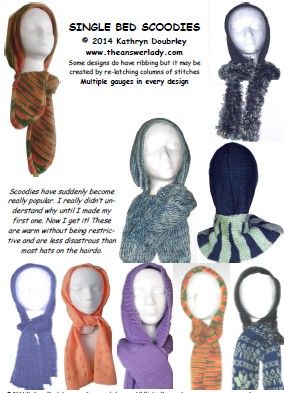 Scoodies have suddenly become really popular. I really didn't understand why until I made my first one. Now I get it! These are warm without being restrictive and are less disastrous than most hats on the hairdo. (Not that I actually HAVE a hairdo but why make things worse than they have to be?)/book is $12.99


Table of Contents:
Tips for Superior Scoodies……………page 2
Scoodie Basics………………………………….page 3
Simplest Scoodie……….…………………….page 3
Shaped Scoodie with and without lace 4
Sideways Scoodie…………………………...page 6
Sunbonnet Scoodie……………….……….page 10
Keyhole Scoodie……………………………..page 11
Shaped Sideways Scoodie……………page 12
Self Trimming Tuck Scoodie……….page 14
Sideways Fairisle Scoodie…………..page 15
The snowflake card is not included in the
pattern. Use any card you love.
Sideways Scoodie with Flare…...page 15
Sideways Scoodie with Fur………..page 16
Get the Point Bias Scoodie………..page 17
Passap Notes………………………………….page 18
Terms in the patterns are generic but probably a bit Japanese oriented. This page will help Passap knitters to succeed.

Several very different hood shapes are included. One size fits most girls from age 10 and adult women.
$12.99 Your book will be delivered by Ravelry