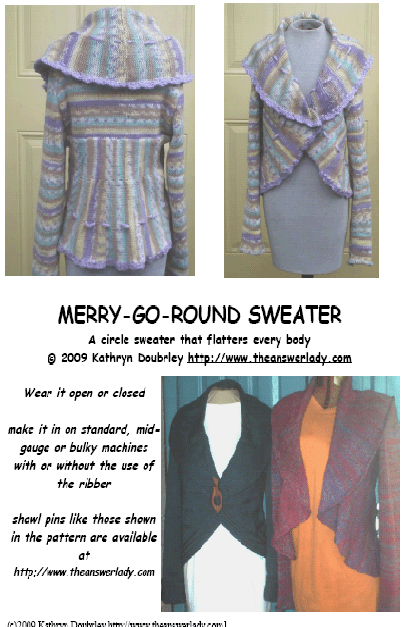 THE MERRY-GO-ROUND SWEATER 29 pages generously illustrated. Several versions of the pattern are given. It can be knitted on the standard, mid-gauge or bulky and fit busts from 30-50". Below are reproductions of the cover and first 2 pages which will give you all the details. Book is $12.99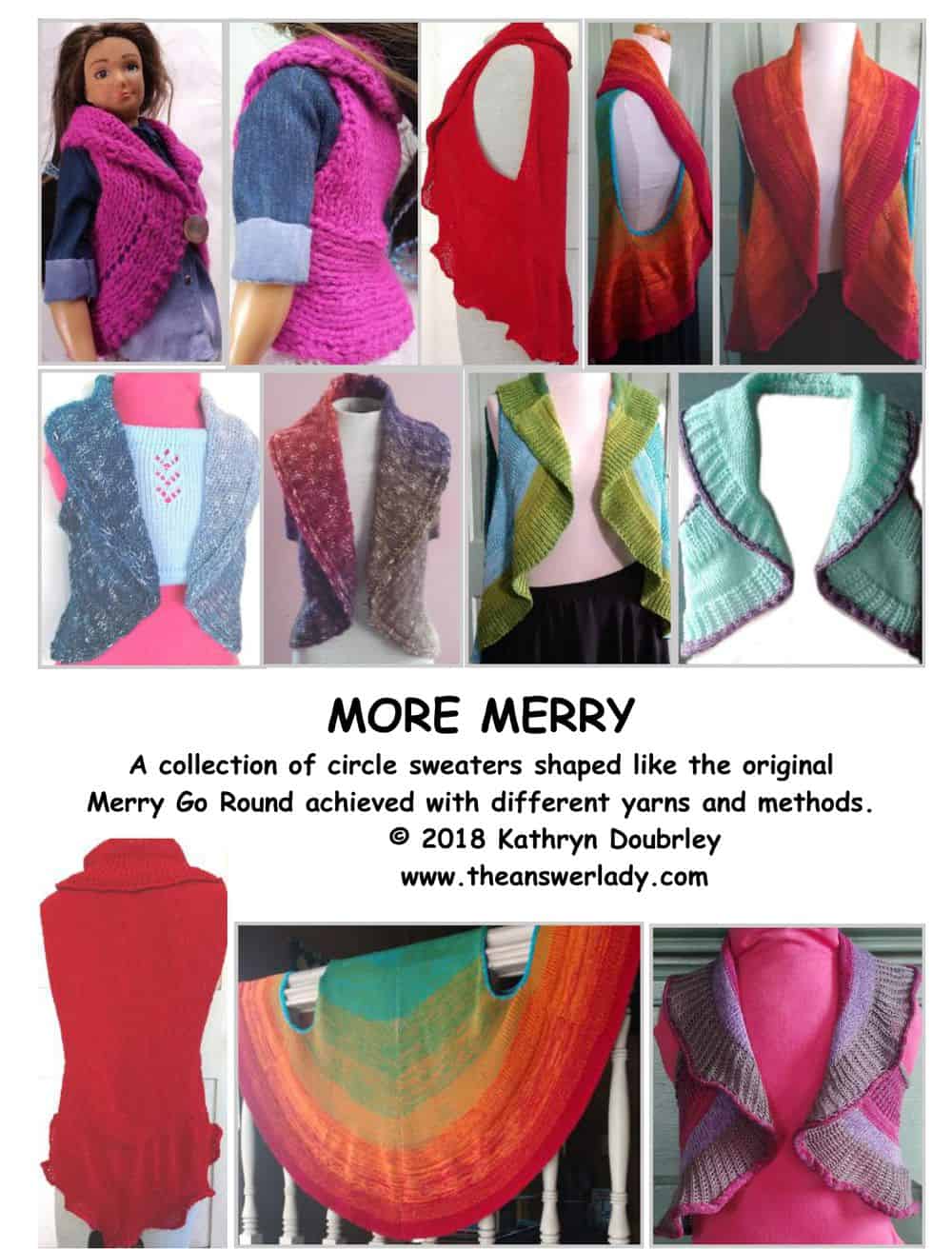 More Merry includes more circle sweater patterns for knitting machines. All of these are vests. Baby, doll and child sizes for the original Merry-go-round are in this book. Child and adult sizes of the Merry Spring Vest using Lion Shawl in a Ball yarn are here. And this is where the all new Doubly Merry design appears. See table of contents below.$15.99

TABLE OF CONTENTS

gauges & sizes
the basics
diagram of the design
how the circle works
how the back works
perfecting the gauge for a perfect circle
knitting in 2 stages
knitting in 3 states
knitting the back
charts with pattern values
sleeve hem options
finsihing a vest
knitting the sleeve & diagram
chart of values for sleeve pattern
finishing
short row tutorial
As customers have made their versions of the original Merry Go Round sweaters, I have helped some of them along with extra notes and worksheets. These are available to all of you for free. Click here to download a help file. It contains an FAQ file, a detailed index, and a worksheet to help you organize your project. Just added: notes on hanging the circle and adjusting the sleeve length. All are free

please view this video on safety if you download any of these files via Mediafire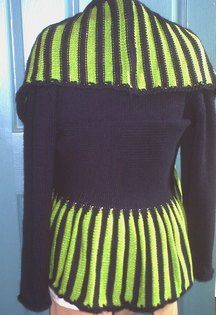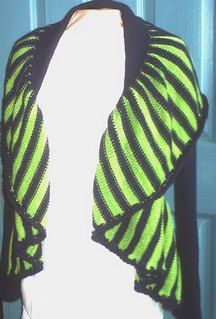 Now you can make a shadow pleated version of Merry-Go-Round. This yarn combination is very dramatic but a subtler one would also look nice.
Click here to download the shadow pleat addendum. You will be taken to the merry-go-round help folder at mediafire.com Select the shadow pleat file and follow the prompts to download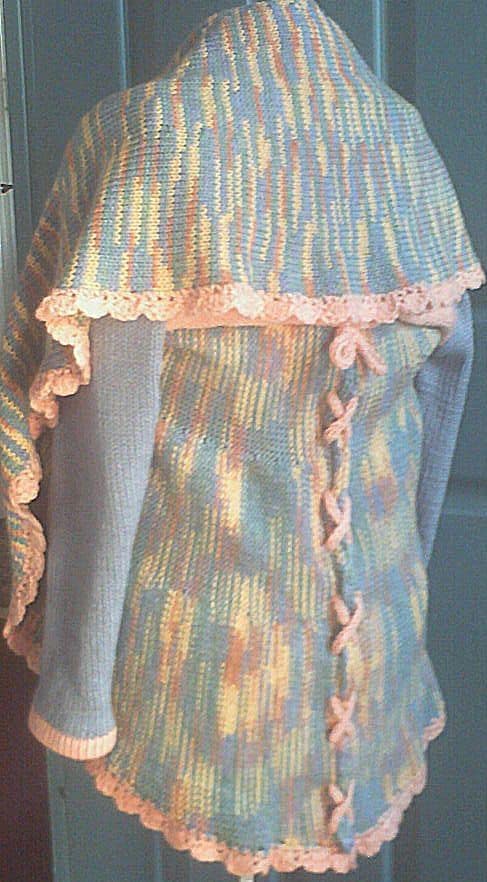 The newest sample of Merry-Go-Round includes several modifications: a wider circle, purl side skirt, longer back hem, lace up back, ombre yarn and crocheted shell edging. All are in
the May 2010 update. Get it by clicking here.
I wish you could see the sweater in person. As always, the photos don't really do it justice.
TABLE OF CONTENTS

Merry Spring Vest for Lammily dolls. Standard machines, #1-2 yarn
Merry Baby Vest-infant sized version of the original Merry Go Round design for standard gauge machines using #1-2 yarn. No ribber needed.
Merry Spring Vest for little girls. Lion "Shawl in a Ball" yarn. Bust 23-28 Bulky machines. No ribber needed.
Merry Spring Vest for ladies sizes 32-50 bust. Lion "Shawl in a Ball" yarn Bulky machines. No ribber needed.
Introduction to the Doubly Merry Design-all versions do require ribbers Or a double bed machine and all are for standard gauge machines*
Sizing & fitting for Doubly Merry Casting On for Doubly Merry
Half Fisherman's rib on many machines-essential for Doubly Merry
Doubly Merry diagram
Stitches, yarn, gauge for Doubly Merry
Steaming for Doubly Merry
Trims for Doubly Merry
Strip Knitting the pieces and binding off for Doubly Merry
Red Heart "It's a Wrap" yarn
Color Graduations without Special Yarn
Doubly Merry for ladies version 1
Doubly Merry for ladies version 2 –1 size first 32-38, only 3 balls of yarn
Doubly Merry Newborn diagram
Doubly Merry Newborn pattern-simplified design
Doubly Merry for Everyone-sizes from baby to bust 52 in a fill in the blank pattern format. Includes babies, toddlers, tweens, teens, and grown-ups
Doubly Merry for Everyone chart with values for the pattern

*double bed machines includes Passaps, Superbas, Orions and the like that usually originally came with 2 beds attached. Most were made in Europe Machines that have attachable ribbers will work just as well. This includes old Knittax type machines that only have every other needle on the ribber. However it is essential that the machine be able to produce half fisherman's rib.book is 41 pages.