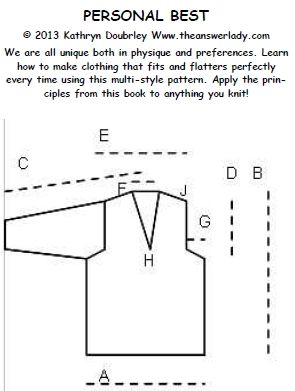 All of the "personal best" sweaters are made with a do-it-yourself cotton/acrylic blend made by combining 2 yarns from Stephanie's Studio: 1 strand 2/15 acrylic plus 1 strand 16/2 cotton. The yarns are very economical and available in many colors. The combined yarn makes a comfortable, washable fabric that gets a gauge of 8 stitches/11.5 rows per inch. using stitch size 6 on the standard gauge or 5 on the Passap machine. Passap knitters see the helpful notes in the box below. A substitute yarn that gets the same gauge may be used. The patterns work on standard gauge Japanese and Passap machines. They don't require a ribber unless you wish to finish your projects with ribbing. An assortment of trims and finishes is provided.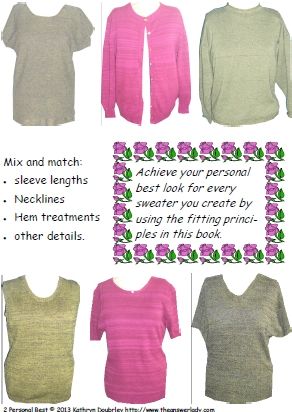 We are all unique both in physique and preferences. Learn how to make clothing that fits and flatters perfectly every time using this multi-style pattern for standard gauge and Passap 5mm machines. Achieve your personal best look for every sweater you create by using the fitting principles in this book. Mix and match sleeve lengths, necklines, hem treatments and other details using the basic patterns in the book, then apply what you have learned to any pattern that you knit.
TABLE OF CONTENTS These are machine knitting patterns
Introduction page 4
Hem options page 6
Basic drop shoulder sweater plus
tapering or flaring the torso and
getting the perfect sleeve length-page 7
cap sleeve T
plus neckline adjustment page 13
Modified drop shoulder T plus
V neck and shoulder adjustment page 19
Sleeveless top
scooped neck plus
shoulder width and
armhole depth adjustment page 26
Classic short sleeved sweater
with set in sleeves plus
adjusting the armhole indentation
and adding darts page 31
Classic cardigan with set in sleeves,
multiple ways of creating and finishing
the cardigan fronts
plus adjusting size for layering page 40
Make it your own
with your favorite finish page 45
49 pages in all. $16

Your book will be delivered via the Ravelry system.