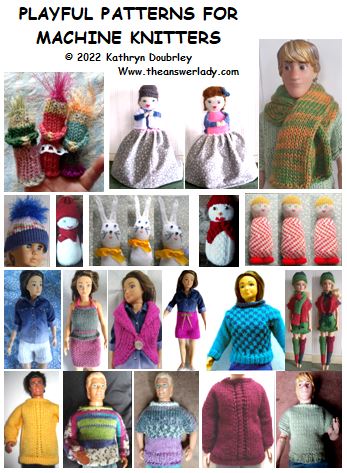 Book is 81 pages. $20. You will receive it as a pdf instant download



TABLE OF CONTENTS
The Ken Doll Pullover Collection page 4 is sweaters for Ken and similar male dolls. Include an Easy Sweater, cabled sweater, and Short Sleeved Sweater in gauges for
both standard and mid-gauge machines. Superba notes are included. No ribber required.
Snowman collection page 12 Swanky Snowman page 12 is given in 2 gauges for all ma-
chines. One works on standard/Passap/Superba machines, the other on bulky and midgauge. Superba note are included. Speedy Snowman on page 20 is a modified version of
the Swanky Snowman with fewer bells and whistle. It is suitable for beginners, party
favors, bazaar sales and any time a lot of snowmen are needed fast. Strip knitting in-
structions are included. Pasap and Bond note included. These snowmen also appear in my
Mostly Classic Cables book.
Barbie, Curvy Barbie & Lammily Measurements p. 22
Barbie & Lammily Doll Clothes Collections page 22 includes Basic Skirt p.25,
Sundress p.27, Cardiqan p.29. Shorts p.30. overalls tp.31, pants p.32 Reversible
Halter To top. 32. Reversible Skirt p.33, Merry Spring Vest p. 34,Basic
Sweater or Dress with short or longs sleeves and optional cable p.38 Fairisle
Sweater p.42 includes bonus mid-gauge pattern. Tubular Keyholes Scarves for Barbie
and Ken. Patterns are for any standard gauge machine. No ribber required.
Wascally Wabbit page 45 For all machines. Size of doll varies with gauge.
Topsy Turvy Doll page 48 for all machines. Involves a small amount of woven fabric and
sewing. Use any smooth yarn on any machine. The size of the doll will vary with the gauge.
Top Down Fingertip Friends page 54 This is a very quick project that can be fun to do
with kids. The knitting and decorating is very basic and they can certainly help. Wiggle eyes add to the fun. Use the same pattern and DK weight or very light worsted weight
yarn on a standard, mid-gauge or bulky machine. A small amount of fun fur yarn is needed
for the hair. Several ways to vary the character are given.
Winter Wonderland Barbie Outfit page 57 includes 6 pieces: a skirt, top, hat. leg
warmers, scarf and capelet. These piece are all designed to be simple enough to have a
child knit them with a little supervision. All are for standard gauge machines using #l
weight sock yarn. There is a playlist showing each garment being knitted in its entirety.
Keyhole Scarves page 63 for any standard gauge machine. There are sizes for Barbie,
Ken and American Girl dolls. Two versions are given. One is for two beds and employs tubular knitting. The other is for single bed work. The two versions look identical except
that one ha a seam up the back.
Pompom Hat for American Girl Dolls page 68 for all machines.
Easy Comfort Doll page 72 for all machines. Size will vary with the machine and yarn
selected.
Toasty Tushy leggings for all Barbies & Lammily p. 74 ribber or double bed required.
Superba and Passap Help p.76 All patterns include Passap notes in Duo80 terminology &
many include Superba note too but this section will give more detailed help to Passap and Superba knitters. E-6000 users can knit the patterns but must know the tech numbers.