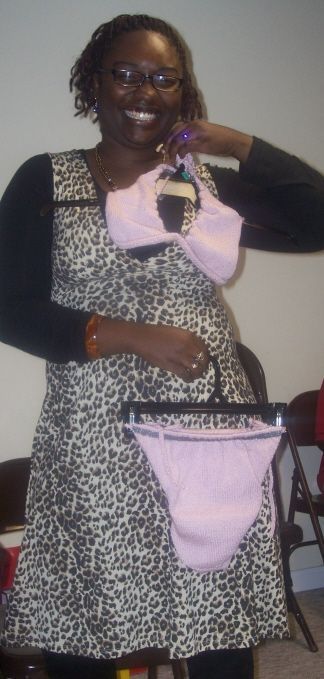 THE BARE MINIMUM Knit this bikini on any standard gauge (4.5mm) or Passap (5mm) machine using Yeoman's Panama or a yarn that gets a similar gauge. No ribber is needed. Pattern includes A,B,C,D cups created by short-rowing and a tutorial on the technique of short-rowing. Short-rows are also used on the seat to give a body hugging fit. Sizes from about 4-12 included. Sizes are approximate because so many variations are included plus the ties allow for some leeway. Even if you would never in a million years, wear this suit, it can be fun to knit and makes a great hit at lingerie showers. Instant download $5 will be delivered by Ravelry.

MY ILL FATED BIKINI STORY
Once upon a time I was an ambitious 13 year old seamstress. I desired above all things to have a bandana print two piece bathing suit ready to wear to summer camp. I sewed and struggled for weeks. It was barely within my abilities but I got it done in time and off I went to camp. The first day we had swimming placement tests. I was quite a good swimmer so I dove confidently off the dock and began to stroke when I became aware that something was terribly amiss.

In those days, the bottoms of two piece suits were much like bloomers, gathered in tightly. It wasn't my favorite thing about the suit. The sketch on the pattern looked much sleeker, but what could I do? The yardage in the trunks would have encircled a considerable heftier heinie than my teenage tush and only the elastic defended my modesty. Sadly, unbeknownst to me, not all elastic at this terrible point in history was "waterproof" and I had used the NON waterproof variety. So you can imagine what happened when I hit the water.

Should such a debacle occur at this point in my life it would be no big deal. I'd simply confess to a wardrobe malfunction and request that somebody toss me a towel. But at13, this obvious solution did not occur to me so I completed my swimming test like this: stroke, swim out of drawers, retrieve drawers, tug them as far up as possible and repeat.

Astonishingly, I placed pretty well on the test! I realize now that besides giggling at my plight, the counselors were probably impressed that I could actually swim in and out of my suit like that. Also, astonishingly, I survived the mortification and am thought to be fairly normal in the mental health department.