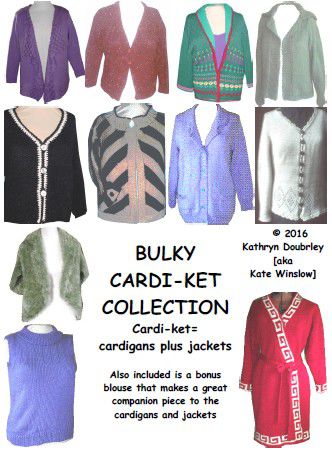 Collection is $20 as an instant download




Your book will be delivered by Ravelry
TABLE OF CONTENTS-includes size and yarn info. All of these patterns are for bulky machines.

Waterfall Jacket page 3
Mary Maxim Starlette yarn. Finished bust 38.4-54.4. Ribber optional.
Classic Cabled Cardigan page 7
Finished bust 36.5-46.5, any worsted weight wool or acrylic yarn, single bed.
Cross Bred Cardigan page 10
Finished bust 33.7-48.8, I Love This Yarn, single bed.
Fancy Threads page 12
Caron Eco plus Tamm Estilo, finished bust 33.7-51". Single bed. Machine must be capable of punch lace or thread lace.
Tuck Cardigan page 15
Finished bust 44-58, Tamm Nordic yarn. Single bed.
New Direction page 18
Finished bust 39-51, I Love This Yarn, single bed.
Notch Collar Cardigan page 22
Finished bust 42-52, Tamm Nordic Yarn, Ribber or lots of hand latching required.
Greek Key Coat page 24
Finished bust 40-52, Tamm Nordic yarn, single bed.
Bonus Blouse: turtleneck top with ribbed yoke page 28
Finished bust 32-54, Red Heart Soft yarn. This is a great companion piece to the cardigans and jackets.
Opera Wrap page 30
Lion Fun Fur, single bed, one size fits almost everyone.
Winter Cheer Coat page 32
Finished bust 38-46, Tamm Nordic or double stranded Tamm Bebe, single bed.

NEED TO KNIT A LARGER SIZE?
An article on page 27 explains how to do so by changing to a thicker yarn. Using this method, the largest sizes possible are: Waterfall=62", Cabled Classic=53", Cross Bred Cardi=55.6, Fancy Threads=58", New Direction=58", Notch Collar Cardi=59", Greek Key Coat-59", Bonus Blouse=61.5", Winter Cheer=52.4". Opera Wrap and Tuck Cardigan cannot be enlarged using this method.