CANDY CORN HAT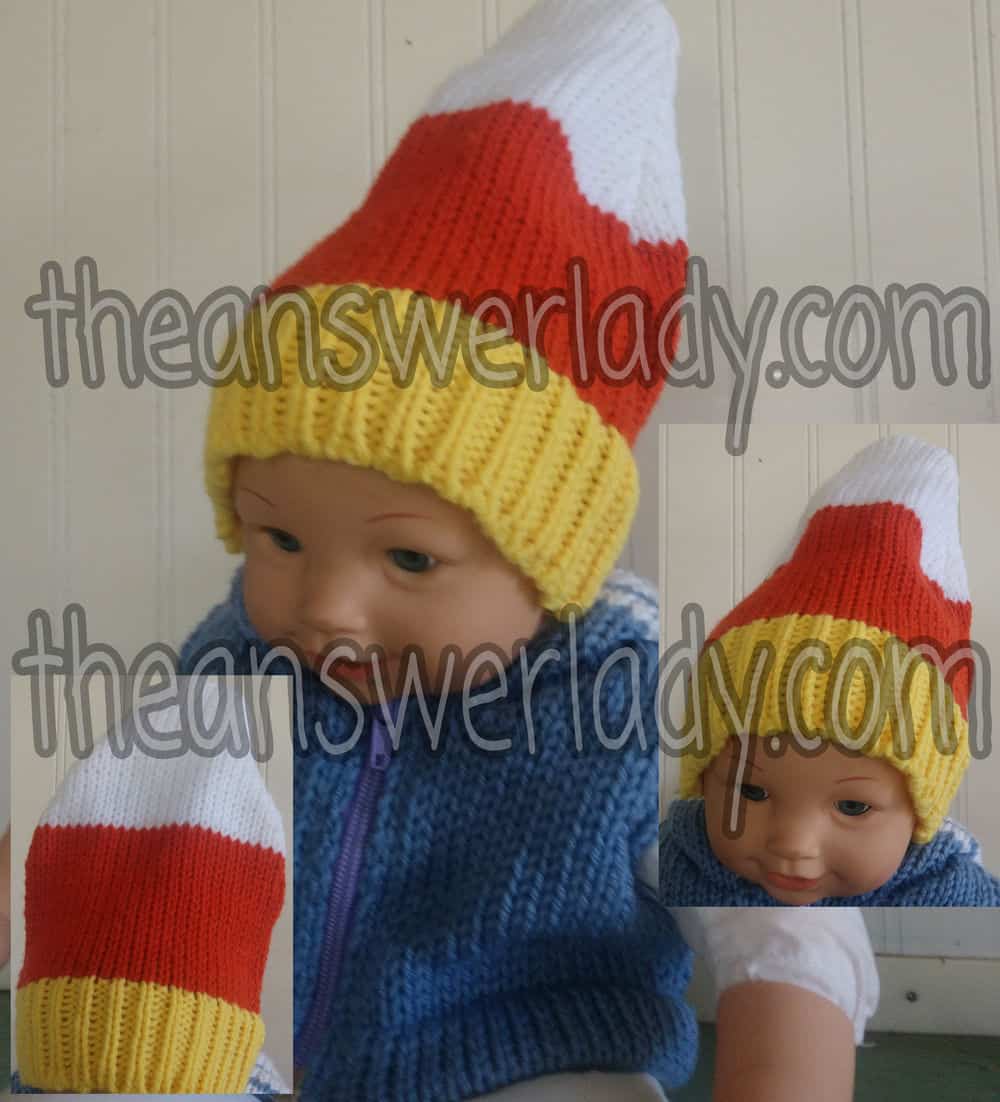 © 2017, updated 2019 Kathryn Doubrley Www.theanswerlady.com All rights reserved.
YARN, GAUGE, SIZE AND MACHINE
The hat finishes to a circumference of 14[16, 18, 20, 22]" which covers sizes from babies to XL adults. Total length from bottom of hem to tip is 7(8,9,10,11)".Its made in 2 pieces that are seamed together. Any machine may be used with one of the gauges. There are 3 gauges to choose from: 4 stitches/6 rows/inch using #4 yarn on a bulky machine, 5.5 stitches/8 rows/inch using #3 yarn on a mid-gauge or 7 stitches/10 rows/inch using #2 yarn on a standard machine.
RIBBING
You need to know how ribbing is produced on your machine. You may use a ribber or ladder down and re-form the stitches. Use 1X1 rib. That is knit 1, purl 1 across the work. It is OK to substitute mock rib if you prefer but double the row count given if you do that. In general, ribbing works best at 2-3 stitch sizes smaller than the stockinette portion of the hat.
KNIT THE HAT-2 pieces alike. Begin with row counter set to 0.
Cast on and knit rib in yellow yarn across a span of ____ and knit ____ rows at ribbing stitch size, filling in the blanks from the number below. If you like each side if your ribbing to end with a knit stitch, add 1 to the numbers given for stitches to cast on.
Bulky: 30[34, 38, 42, 46] needles 12[14, 16, 18, 20] rows.
Mid-gauge: 42[48, 52, 58, 64] needles 16[18, 20, 24, 26] rows.
Standard: 52[60, 66, 74, 82] needles 20[24, 28, 30, 30] rows.
Change to stockinette stitch size and orange yarn with all stitches on the main bed.
Change from orange to white yarn after knitting
Bulky: 21(24,27,30,33)
Mid-gauge: 28(32,36,40,44)
Standard: 35(40,45,50,55)
Rows of orange.
The total row count at this point is
Bulky: 33(38,43,48,53)
Mid-gauge: 44(50,56,62,68)
Standard: 55(64,73,80,85)
NOTE: decreases begin after knitting row
Bulky: 34(36,38,40,44)
Mid-gauge: 44(48,52,56,60)
Standard: 54(69,66,72,78)
Which may be before, the same time, or after the change to white yarn, depending on size and gauge.
You may alter the position of the color change to change the proportion of the white tip of the "candy" to the rest of the hat if you like. This suggested row count is based on commonly seen proportions but different brands do proportion the candy colors in unique ways.
Decrease 1 on each side every row, using the full fashioned decrease, until ____ stitches remain in work. Knit 2 rows on these last few stitches, then bind off. Fill in the blank from the numbers below.
Bulky: 8(10,12,12,12)
Mid-gauge: 10(12,14,16,16)
Standard: 14(16,17,20,22)
If you added a stitch to the ribbing there will be one more stitch than stated. That's ok.
Seam the edges of the pieces together with mattress stitch or a similar seam.