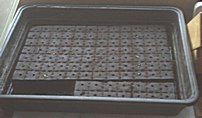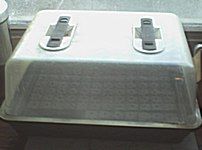 Last year's garden left something to be desired. But a new year and a fresh start engender new hope. Assessing the short comings of my last garden, I have identified 2 failings: 1)cheap, poorly chosen seeds and 2) insufficient sun because my trees have grown since I chose the garden spot. Number 2 will be addressed by moving the sun lovers to a new position.
This year I have selected seeds for flavor and fun with an eye on heat and disease tolerance as well. Here are the selections sewn indoors the week of January 17, 2010. They are sown in a high dome proagator with vents using pre-formed peat blocks. This is my all time most successful seed starting method.
SUNMASTER TOMATOES produce fruit even when temperatures exceed 90% as they often do here. They are very disease resistant, tasty and have done well for me in the past.
TOMATILLOS are an heirloom plant that require similar conditions to tomatoes. They make that fantastic green salsa sometimes served in Mexican restaurants
MARCONI RED AND ACONCAGUA peppers are experimental this year. Marconi is Italian, Aconcagua is Argentinian. Both are native to climates a little less hot than here so I'll have to watch over them but both are purported to be so sweet and delicious that I could not resist trying. Also, both are heirloom varieties that will permit me to save my own seeds if they succeed.
PISTOU BASIL is an improved Minette variety. Minettes have performed very well in my garden in the past. They are flavorful, productive and tiny so they make good edging. Pistou is supposed to excel in all these departments. Can't wait.
ZAATAR MARJORAM is a Middle Eastern variety said to be superlative for cooking and with more flavor complexity than most Marjorams. It is said to be deer resistant. Having dogs, I don't get deer in my garden but many in this area do so Zaatar could be a find.
STEVIA is a naturally sweet herb that I grow most years. It is "unimproved" meaning that the plants vary a great deal as little selective breeding has taken place. So sprouting times vary greatly as does the look and size of the plants. What nevery varies is sweetness and heat tolerance. I use the herb primarily in iced tea but there are many other uses.
TOOTHACHE PLANT is an ornamental and medicinal plant from Brazil. It reportedly has analgesic components in its red and orange flower heads. It is often eaten in salads where people grow it. When I saw it in the catalogue, it looked like too much fun to miss. Each year I try something experimental. This year it's toothache plant.
LEMON GRASS is a real grass used mostly for tea and for Thai cooking. Occasionally it will winter over here in a sheltered area but certainly not this winter. There is no hope of seeing last year's plants next spring so I'm starting fresh ones. It's great for flavor and trouble free in heat and humidity as long as it gets enough water. The Bush Doctor I met in Jamaica recommends it as the first line of defense for colds and flu.