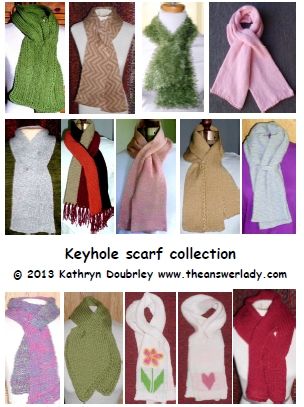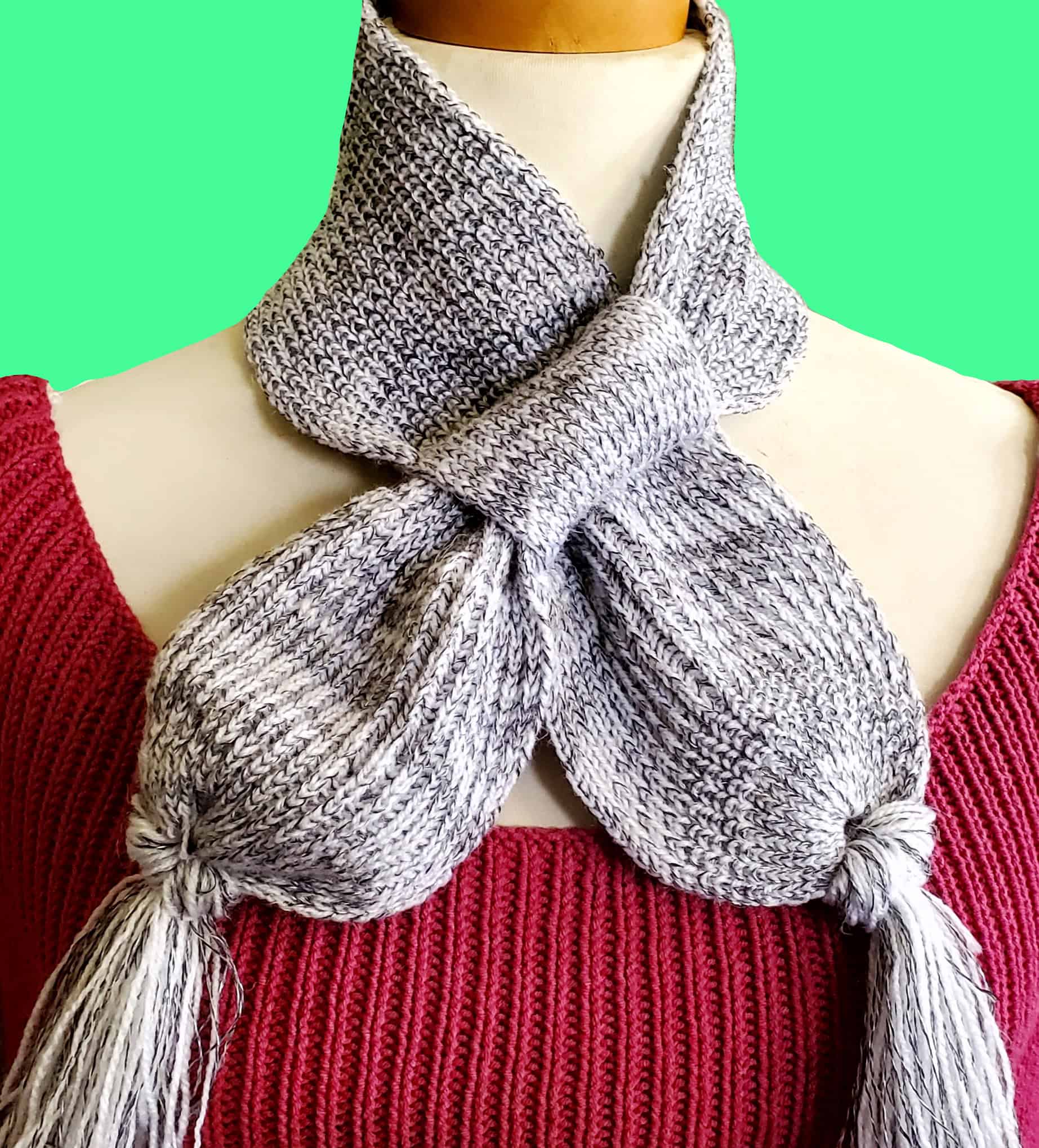 your book will be delivered by Ravelry

Original book is 45 pages in total but a new pattern has been added. The Bow Tie Scarf shown above is an additional 8 page pattern. It requires 2 beds on any kind of standard gauge machine. This includes Japanese, Passap and Superba. The scarf is super simple. All shaping is done by changing from 1x1 to half Fisherman's and full fisherman's rib and back. Your purchase now includes 2 files. Be sure to download both when buying the book.
See a complete video demonstration of the Bow Tie Scarf here

The term "keyhole scarves" refers to scarves that have a slit into which one end is inserted to secure the scarf. No knot is needed. They are tidier and less bulky than other scarves to wear and great for people like me who are accessory impaired. They can be made on any machine and in many stitches.

"Any Gauge" includes Passap machines unless stated otherwise. If a ribber or 2nd bed is required, it is stated above. Most patterns are made in Tamm Bebe yarn using a single or double strand depending on gauge. The Passap fairisle and tracing with tuck stitch scarves use Tamm Astracryl 3 ply instead. The fur scarf uses a furry yarn and the designer details scarf uses a combo of thin yarns you may have on hand. Healthy Girls uses Caron Simply Soft. Most patterns are given in a single adult size but instructions for altering size are included. More yarn notes on page 45. Book is for machine knitters and is $20
TABLE OF CONTENTS Basic Keyhole Scarf Includes instructions for designing your own Any gauge. Read this pattern before knitting any scarves
Tubular knitted scarves Any Gauge with 2 beds
Tracing with tuck stitch Standard Japanese
Twin Cables Mid-gauge or bulky
Healthy Girls Any gauge
Sideways Style Any gauge
Faux Cable Any gauge with ribber
Double Slot Fur Any Gauge but easier on Japanese Passap Fairisle Double bed Passaps only
Lined Scarves any machine may
make the plain versision but only Japanese machines may knit the fairisle version of the pattern
Ribbed Scarves Any gauge with ribber
Designer Details Any gauge
Interlocking Leaves Any gauge
more yarn notes page 45
Bow Tie Scarf for all double bed standard machines is a separate 8 page file included in your purchase.
Original book is 45 pages in total but a new pattern has been added. The Bow Tie Scarf shown at left.