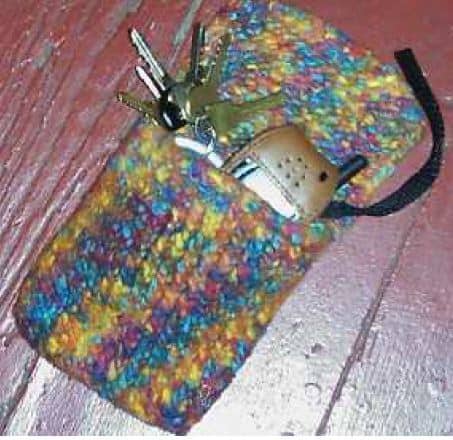 download now free felted mini-bag for knifty knitters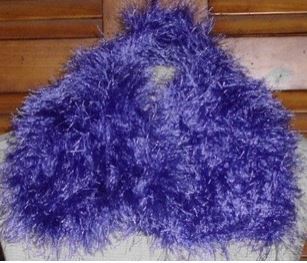 download now Free Fun Fur scarf for many double knitting boards

click here to download free instructions for making a scalloped hem right on the loom


here's a link to the hand knitting eyelet stripes tunic pattern Caron's "Knit Tank Tunic" by Lorna Miser--suggestions for loom knitters.

The pattern stitch for this Caron free pattern is called eyelet stripes. It is written this way for hand knitters:
Row 1: p3 *yo, k3tog, yo, p3* repeat
Row 2: *k3, p3; repeat from * to last 3 sts, k3.

Loom knitters can match the gauge on some looms. I have tried it on the All-In-One and it works. I know it will also work on some Kiss looms.

Here is how to get a stitch very close to the pattern stitch on a loom.
Row 1: purl 3. *Transfer stitches 1 and 3 of the next 3 stitches to peg 2 between them. E-wrap the same 3 pegs. Knit off all of the loops on the center peg. Purl the next 3 stitches.* repeat from * to * across
Row 2: We do not turn our work as those using knitting needles do. Therefore, we to not purl the knits and knit the purls as they do to create stockinette. So, work the second row by purling the purls and knitting the knit stitches.

Most of the pattern reads very understandably for loom knitters. BO is bind off for everyone. We have no WS[wrong side] rows because we always work from the same side. Where you see WS, think "even numbered row".

The main challenge for loom knitters will be the number of pegs. The pattern includes sizes from 34-62 finished bust. It is larger at the hip as is necessary and appropriate to a long tunic and requires from 83-143 stitches across the hem. The longer All-In-One loom using the end pieces that contain pegs and Kiss looms can cover the necessary needle count and match the gauge. I hope that there are otherlooms that will but do not personally know of any.

If you don't have enough pegs but are strongly motivated to knit this, consider dividing the front and back into halves and knitting half at a time. Don't bother to try to hide the seam in this stitch. Instead, do something creative to turn it into a design feature.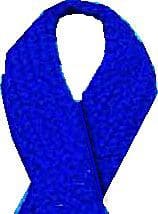 download now Super Scarf-make it on a Knifty Knitter, Kiss Dragon or similar loom. Learn to make ribbing without any purl stitches!!!! Very fast and easy.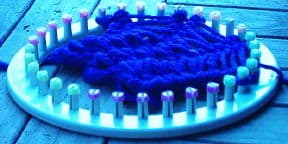 The smooth tips on this loom were driving me crazy by dropping stitches like mad. I bought a package of pencil grips at Target and cut each grip into several pieces. Each is held to the top of a peg by a single dot of glue. They should be removable later if I want to restore the smooth tips.