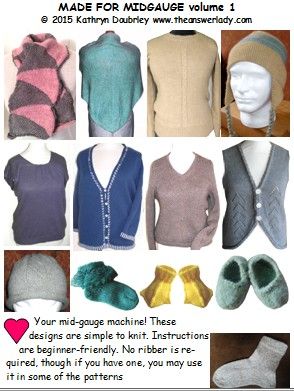 These patterns are for any mid-gauge machine. The 2 on which all the samples were made are the Artisan D-70 and the KX-350. I could hardly stop adding patterns to this book! So I finally drew the line and called this volume 1. Volume 2 is now in progress.
volume 1 is $20 as an instant download


Your book will be delivered by Ravelry
TABLE OF CONTENTS
Terms & techniques
Casting on and binding off
Snappy Socks with oodles of options for all adults
Fun Finishes Cardigan ladies 36-58 finished bust [54-58 not possible on some*]
1960 Socks-ruffle socks for girls shoe size 10-3
Duck Foot Booties in 4 sizes for babies
Classic V neck sweater, unisex, chest 36-52
Yakkety Yak hat for adults
Zigzag Scarf
Luxury Felted Booties, newborn size
Roll Brim Hats both Plain & Cabled
Lacy Luxury Vest finished bust 38.4-47.8"
Take it From the Top Cabled Classic, unisex, 41.5-50 finished chest
Classic Comfort Triangle Shawl
Emergency Top, finished bust 32-48
Gauge adjustment formula for those who have trouble matching gauge

Yarns used in this book
Red Heart Boutique Sashay used only with a weaving technique, not really knitted.
Red Heart Super Saver at 4 stitches/6 rows/inch. 6.5 on the KX 350 stitch dial.
Mary Maxim Big Ball at 5 stitches/7 rows per inch using 5-8 on the stitch dial.
Eastport Alpaca DK at various gauges depending on project specifics. It is available at www.suripacobodega.com as well as some other sources. Other DK-sport yarns may be substituted.
Yarn Country Flash at 5 stitches/inch knitted rather loosely
4/2 Cotton from Stephanie's Studio at 6 stitches/9 rows/inch
Patons Astra at 5 stitches/inch

Substituting yarns is completely fine. Just keep in mind the qualities for which the yarn was selected. For example, the sock yarn was selected for softness and wash-ability. The use of Eastport Alpaca is for it's soft, warm lofty qualities. A cotton sweater that matches the gauge may be knitted and might be nice but it will certainly look and behave differently. Though the Eastport Alpaca is listed as DK size it knits and behaves more like a sport weight or #3 yarn. This is because it lofts so much when washed. If unable to match the gauge perfectly, match stitch gauge and adjust for row gauge. Usually that makes for very simple arithmetic using the formula on page 15. If you run into substitution or gauge matching questions, I am always happy to help. Just contact me via my website contact info with enough detail about your established gauge and where you are in which project for me to catch up with you mentally and jump in.