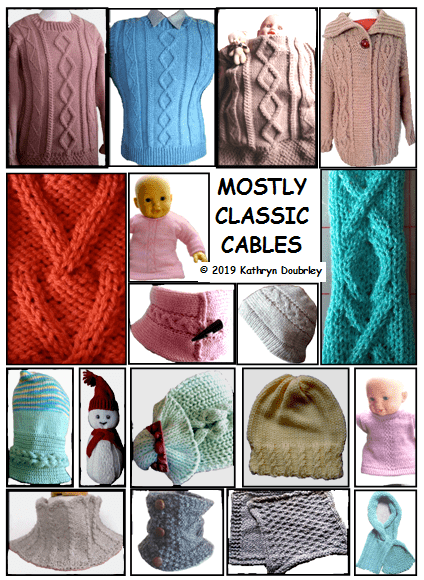 $26. Book is 118 pages.
It is a pdf download which will be delivered by Ravelry. You need not be a Ravelry member for this to work. Have a good look at the table of contents at right and the indexes of videos and stitches below so as to know if this book is what you need.




an extensive playlist of videos backs up the book. It's here.
ACHIEVE HAND KNIT STYLES OF CABLES ON YOUR KNITTING MACHINE
TABLE OF CONTENTS
Helpful video links [see below]
Index of stitches [see below]
Cable Basics
Cable-Go-Round Hat for mid-gauge or bulky machines in 3 adult sizes using #3 yarn. No ribber required. 6 stitch braided cable is use.
Cable-Go-Round Collar for mid-gauge and bulky machines using #3-light #4 yarn. No ribber required. 1 adult size easily altered. 6 stitch braided cable.
Half Fisherman's Rib Chart
Laced Cable Cowl for bulky machines with ribbers. 2 sizes: girls & women.
Laced Cable Scoody same sizes and gauge as cowl above.
The 2 laced cable patterns above faux cables [the only faux ones in this book] and are for bulky machines ribbers using worsted weight [#4] yarn. 2 sizes cover big girls & adult ladies. If you enjoy faux cables, you will like my book: Can These Be Cables?
Let Me Count the Ways Hats 3 gauges, 7 sizes from infant to XL adult, all machines. Many, many ways of producing similar hats with or without a ribber.
Swanky Snowman. Any machine, 3 gauges provided. Single and double bed versions are provided. Uses interlaced cables.
Speedy Snowman. A much simpler version of the Swanky Snowman without cables. It's suitable for toys, beginners, production knitting and teaching new knitters. Includes Bond notes.
First Cabled Sweater series. These are simply shaped sweaters so that the knitter can concentrate on the cable. Baby & toddler sizes have 3 gauges. Adult and kid sizes are for #4 [worsted weight] yarn on bulkies.
Babies & Toddlers. 3 gauges & 4 sizes are given
First Cabled Vest for Babies and Toddlers Same sizes & gauges as sweater
For Adults #4 yarn for bulky machines
For Kids #4 yarn for bulky machines
Cable Encyclopedia 21 pages. See contents listed on page 3
Inside Out Aran series. These are single bed-friendly designs
This is primarily for bulky machines using soft bulky [aka chunky or #5] yarn. Some patterns do include alternate gauges. Ribber is optional. A new textured stitch skill is presented in each chapter of 1-6 so that by chapter 7, knitting the jacket isn't daunting.
It includes garter stitch edged dishcloth page 66 #4 cotton yarn, bulky machine
Double moss stitch dishcloth #4 cotton yarn, bulky machine
Tuck rib scarves and cowl page 69 soft #5 yarn, bulky machine
3 stitch cabled phone pouch 4 gauges, any machine
Cable 2 cowl any machine 5 gauges given
Big cable pillow page 76 bulky machines, #5 yarn
Inside out aran jacket bulky machine, soft #5 yarn
Diamond Cable Collar & Scarf soft #5 yarn, bulky machine
Masterpiece Cable Projects These require a ribber For any machines. #5 yarn on a bulky gives adult sizes. Using #1-4 yarn with the same pattern gives baby, child & adult sizes.
Masterpiece Blankets 3 gauges. Ribber required. Several sizes.
Masterpiece Sweaters 4 gauges. 18 to 58"chest. Varies with gauge in use.
Masterpiece Vests same gauges & sizes as Masterpiece Sweater