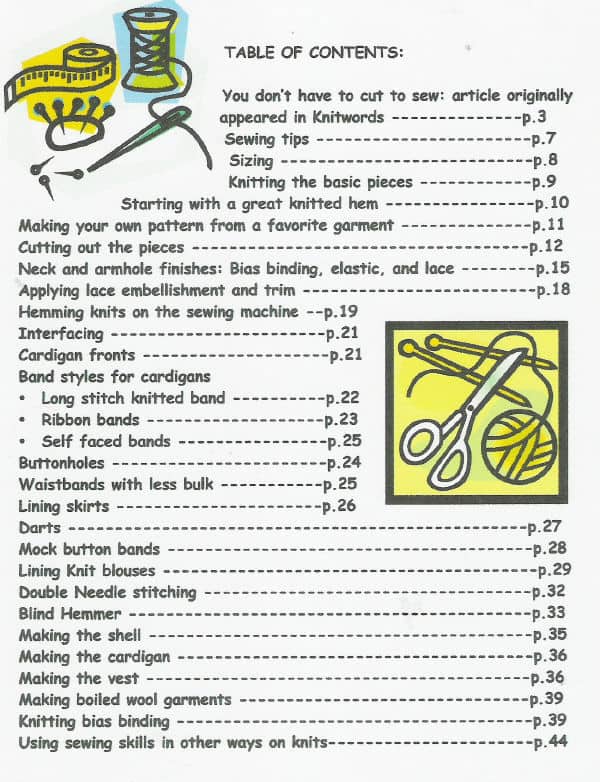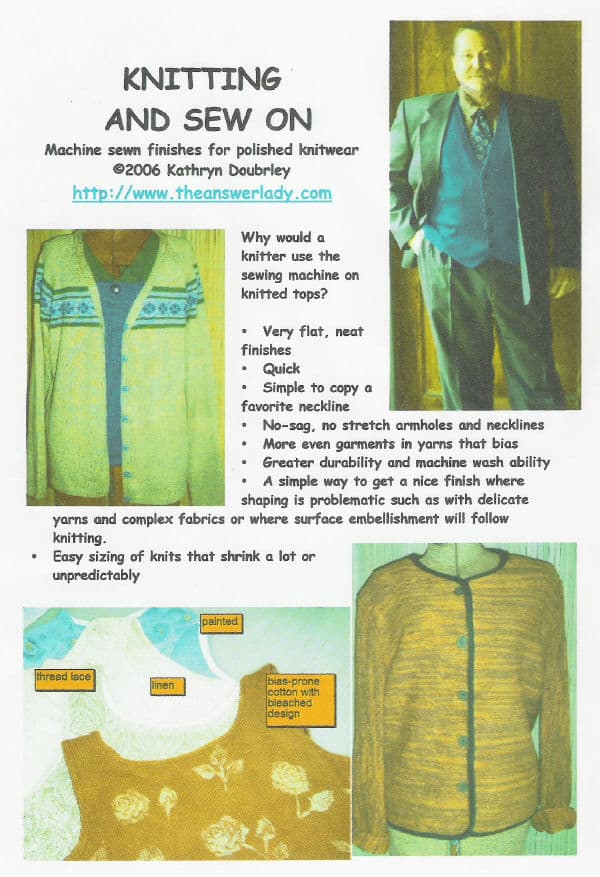 Book is for machine knitters
KNITTING AND SEW ON has been updated with a new mega-pattern called "Start with a Square". This gives you directions for knitting the basic shapes that will allow you to cut and sew sweaters and skirts for all sizes from infant to XXXL adult. Charts for 6 gauges are included so that fabrics may be knitted on any machine. The pattern adds 5 pages to the original book which now totals 49 pages. LOTS of illustrations help you through the process.




Do you sew? if you do, learn to combine your sewing and knitting skills to get even better knits. KNITTING AND SEW ON is a fully illustrated book that will teach you how to sew succesfully on your knits to make: droop-proof armholes, great cardigans that match perfectly, lined knit wear and professional finishes of all kinds. This is NOT traditional cut and sew. Even if you prefer to shape your knits completely on the machine, you may find something useful in KNITTING AND SEW ON. Here is how KNITTING AND SEW ON came about. Before becoming a knitter, The Answer Lady was already a professional seamstress and costume designer. As such I sewed on EVERYTHING and still do. I could not resist sewing a little on my knitwear but I did so furtively and with guilt, having been inculcated with the idea that the blending the two crafts was "wrong". But my knits with sewn touches did get compliments. KNITTING AND SEW ON reflects the view that choosing to combine arts is not a moral issue. Let's make the most of all our skills! $20 your book will be delivered as a pdf by Ravelry.