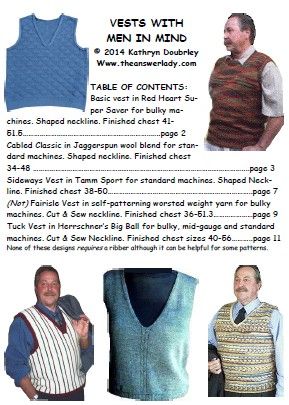 Here's a nice cut & sew V neck method that may be used on any vest
Vests with Men in Mind is a collection of 5 machine knitted vests. They are "with men in mind" because vests have been the knitted garment most frequently enjoyed by the men in my life. In fact, the patterns are unisex and look very nice on women, too. Here is the table of contents which includes sizing, machine & gauge information:
TABLE OF CONTENTS:
Basic vest in Red Heart Super Saver for bulky machines. Shaped neckline. Finished chest 41-51.5
Cabled Classic in Jaggerspun wool blend for standard machines. Shaped neckline. Finished chest 38-43
Sideways Vest in Tamm Sport for standard machines. Shaped Neckline. Finished chest 38-50
(Not) Fairisle Vest in self-patterning worsted weight yarn for bulky machines. Cut & Sew neckline. Finished chest 36-51.3
Tuck Vest in Herrschner's Big Ball for bulky, mid-gauge and standard machines. Cut & Sew Neckline. Finished chest sizes 40-56
None of these designs requires a ribber but having one may be helpful for some of them. $10.99

If we have met at seminars, you will recognize the model as my husband who is not only a good sport about modeling but also our favorite knitting machine mechanic.


show cart