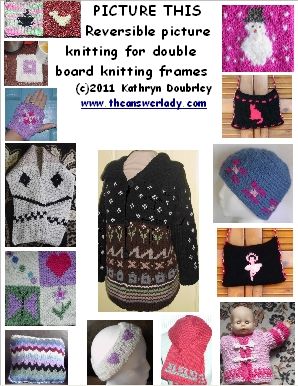 $20 see table of contents and details below.
NOTES FOR KISS LOOMERS I consulted with Tami Ickes, the best Kiss loom double knitter that I know to get some ideas about using these patterns for Kiss loomers. I designed the patterns in this book before I discovered Kisses so the samples were made on other looms. Because the Kiss is adjustable, it should be no problem at all to match either gauge in the book. In many cases, such as pot holders, it's not even necessary. Who really cares if a pot holder is 6 or 7 inches square? But for coats and hats, we do care.

Here is what Tami has to say. If you should come up with gauge info that you'd like to share, please get in touch and we'll add that.

TAMI: Here are my observations and experiences on double knitting with a Kiss Loom.

So far I've only used the 30 peg Reg Mod, Small gauge, & F0 -- but all the Kiss Looms where you can either remove the pins, or there are *no* pins (F0), can be used for double knitting.

When the pins are removed (the F0 being the exception), the skinny side of the pegs need to be facing each other. Until there is a specific double knit kit for the small and F0 gauge looms, the only way I've found to separate the boards properly is to use a combination of nuts and washers. Make sure to use the same amount of nuts & washers on both ends, & turn loom upside down to measure 1/2" space between the boards, which would be the smallest gauge for double knitting. Any smaller than 1/2" would make the space too 'tight' for your project to flow down through easily while it's growing & wrapping those pegs would be extremely difficult.

Adding washers and/or nuts in between the boards will affect the stitch gauge of your project, so doing a small swatch before starting your pattern would give you a good idea of how large or small your stitch count will be with the yarn weight that you're using. The standard widths between boards for double knitting are 1/2", 1", 1.5" and 2", and these are all depending on your peg gauge. For example all the LG/XLG gauge looms from 5/8" - 13/16" would use a space of 1.5" or 2" in between the boards as a standard setting. This allows for a nice smooth journey of your fabric to come down through the boards and a nice stitch gauge (again, swatching would give a better idea of how your stitches will look with the yarn you've chosen & the space between the boards --- always do a swatch beforehand to avoid disappointment and time wasted later on when you see it's not turning out the way you envisioned it).

The proper yarns are a matter of choice, but common sense begs that anything over a #3 wt yarn on the F0 loom, when double knitting, will be quite cumbersome and you will get frustrated very quickly. It's very hard to knit that large of a weight of yarn between those small spaced pegs. If not double knitting in brioche stitch, the #4 *could* be used, but again, the small space between the pegs will be very hard to guide the yarn properly without it getting caught up on an adjacent peg (even if using a yarn guide)....and you definitely won't be able to knit very fast --- but it *can* be done. It will just take a lot of patience and time.


this is Kathryn [Kate] again, adding some thoughts:
In other words, we use the PEG boards only when double knitting on Kisses. Leave the PIN boards in the drawer for this work. Space the two peg boards as needed to get the board spacing that produces the fabric you want. Wrapping methods are included in the book. Double knitting produces a lovely non-rolling fabric that is reversible and looks like stockinette on both sides.











TABLE OF CONTENTS:
Introduction & fairisle tips
Boards & yarns
All About Gauge
Casting on, knitting in fairisle, binding off
Fixing mistakes.
Extra picture charts

PATTERNS
Coasters & hot mats
Wonderful wash cloths
Snuggly Scarves
Headband & Ear muffs
Flower hat
Terrific totes
Fingerless gloves
Locked in Warmth-keyhole scarf
Baby Vest & jacket
Perfect Pillows
Beautiful Blankets
Masterpiece Coat
2 gauges are provided so that Authentic Knitting
Boards, Noble Knitters, AIOS, Kiss looms and Knifty Knitter long looms can all use the patterns.
Many patterns are multi-sized also and approximate yarn requirements are listed.
Total # of fairisle charts=36. Many can be mixed between patterns.
click here for a chart comparing gauges on various boards and suggesting adjustments to match gauge
Click here for a free Fun Fur scarf or collar pattern. Pictured at below
click here for instructions on numbering the needles on your board
need help? click here for lots of YouTube videos indexed by subject