Kiss loom video index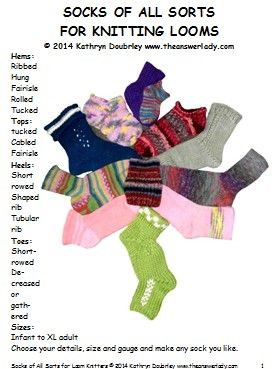 $10.99 us dollars
Paypal will translate to any currency
Table of contents:
Fabrics 3
Anatomy of a sock 3
Understanding sock sizes 4
Foot circumferences 5
Childrenís sizes and booties 6
Two ways to get the right length 7
Sizing length without counting 8
Gauge worksheet 8
Length chart 9
Hems & sock tops : Hemmed, 10 rolling, tucked, fairisle, lace
Adding cables 12
Adding vertical fairisle motifs 13
Cast on rags 13
Heels & toes 14
Short rowing 16
Cast ons 17
Top down sock pattern 17
Toe up sock pattern 17
Dying your own self patterning yarn 18
Adding non slip soles to slipper socks 21
Chart of looms, yarns & gauges 21
Sizes include US, UK and EU shoe sizing
Gauges expressed in both inches and cm Should you ever spot an error in the pattern info, get in touch. I will correct it and issue corrected digital copies to book owners.

Since so many options are provided, the patterns are fill in the blank style. Details are determined by charts and worksheets specific to the yarn, gauge and style selected.


The book now consists of 2 files. One is named SOCKS OF ALL SORTS. the other is named DIAGRAMMING SOCKS. Be sure to download both.
Suitable looms:
This book covers gauges from 3-10 stitches per inch which includes yarns from #1-#5. Looms that are specifically designed for socks work well. So do many Kiss Looms and the AKB All-in-One loom. If your loom can knit a tube of fabric [it does not literally have to be a circle loom] and has the right number of pegs to create the sock, most likely it will work. Looms that have an adjustable number of pegs are very helpful in getting the socks sized just right.
Suitable Stitches:
Socks in this book are made from knit and purl stitches. Any version of the knit stitch that you like and gets the gauge you are striving for is acceptable. Flat stitch, true knit stitch and u-wrap are all fine. E-wrap is the least recommended because it isnít as smooth as the others. This does not matter much for booties as infants donít walk but for those who do and who wear shoes, e-wrap stitches can create an uncomfortable texture. In certain places in the book e-wrap is specifically recommended because of the properties it brings to a certain situation.

Yarns:
While any yarn may be used, yarns that are a little bit stretchy, fluffy and very strong are desirable. Bamboo, viscose, rayon, linen and such fibers that are known for lovely drape are less desirable for socks because they donít hold their shape as well and fill in the fabric as fully as do wool and acrylic. Many sock yarns contain a little bit of nylon for strength and a little bit of some elastic fiber to add memory, qualities that really help socks to fit and wear well.




As of August 23, 2019, a bonus file was added to this book. It is called DIAGRAMMING SOCKS, which is the way I actually design my own and begin every pattern. I have been finding that new knitters often grasp the process better using the information in this 5 page addition. All those who have previously purchased the book have been sent a download link via Ravelry. From now on, buyers will have 2 files to download. If you already have the book, you don't need to download it again. Just get the one called DIAGRAMMING SOCKS.