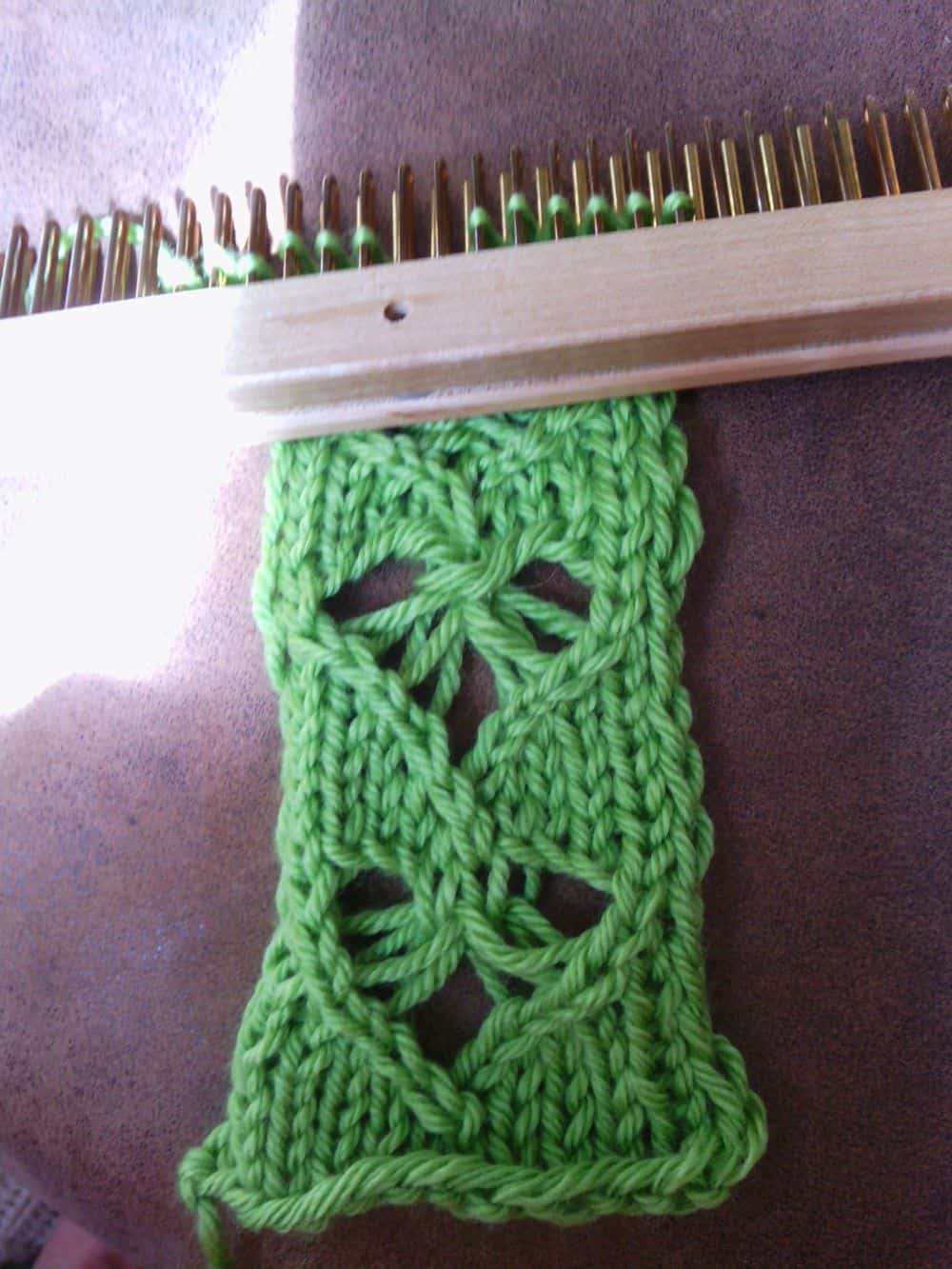 This is the result of my efforts to reproduce a beautiful swatch that a friend posted on one of my needlework groups. I like it and hope you will, too. There is a YouTube video too. video of loom knitting heart lace
Heart Lace for Loom Knitters

This lace could be repeated across a larger fabric. There are 10 needles involved in the lace but cast on 14 so as to create an edge on each side.
The basic design is to slip stitch 1 in each row, purl stitch 2, knit 10, purl 1, knit 1. But after we begin transferring stitches,some of the center pegs will get slipped in some rows. Where multiple stitches or loops are on a single peg, knit all of them over the next time a row is knitted.

Row 1: slip 1, purl 1, knit 10, purl 1, knit 1. Now cross the stitches that are on pegs 7 & 8
Row 2: Slip 1, purl 1, Knit 10, purl 1, knit 1. Now lift the stitch on peg 6. Move the stitch from peg 7 to peg 6 and replace the original stitch on peg 6 which now holds 2 stitches while peg 7 is empty. Move the stitch on peg 8 to peg 9 in the same manner, first lifting the original stitch from 9, putting the stitch from 8 on 9 and replacing the original stitch on 9
Row 3: slip 1, purl 1, knit 4, slip the 2 empty pegs, knit 4, purl 1, knit 1. Work stitch transfers on pegs 5/6 and pegs 9/10 in the same way as on row 2. This should leave 4 center pegs empty.
Row 4: slip 1, purl 1, knit 3, slip 4, knit 3, purl 1, knit 1. Work transfers on pegs 4/5 and 10/11 using the established method.
Row 5: slip 1, purl 1, knit 2, slip 6, knit 2, purl 1, knit 1. Work transfers on 3/4 and 11/12 using the established method.
Row 5: slip 1, purl 1, knit 1, slip 8, knit 1, purl 1, knit 1.
Row 6: slip 1, purl 1, knit 1, e-wrap the 8 empty needles, knit 1, purl 1, knit 1. Lift the floats that were formed while center needles were being slipped and hang them on pegs 7 and 8. Hang the top float on 7, the next on 8 and keep alternating until all 5 have been hung.
Row 7: slip 1, purl 1, knit 10, purl 1, knit 1. When knitting the center 2 pegs with all of the floats hung, knit over ALL of the yarn loops.
Row 8: slip 1, purl 1, knit 10, purl 1, knit 1
Repeat these 8 rows up the work.

If you spot something that doesn't look quite right in the instructions, please don't struggle. Get in touch and I'll check it. Possibly I have worded something wrong and if so, of course I want to fix it.
SINGLE KNITTING VS. DOUBLE KNITTING
Both of these may be done on looms. Single knitting may be virtually identical to hand knitting on 2 needles. It requires a single row or circle of pegs. Some double knitting boards may be used one board at a time to produce single knitting.

Double knitting is thicker and warmer than single knitting. The gauge tends to be a little bit looser than single knitting if the same yarn is used but it is not see through on account of the 2 layers of fabric. Both faces of double knitted fabric normally look like the knit side of single knitted fabric. This may be altered on purpose with special techniques, but generally, it is true.

Double knitting requires 2 boards that are parallel to each other. The simplest is a purple version by Knifty Knitter. Kiss looms may be used as double knitting boards by removing the pin boards. The KB company made several boards specifically for double knitting. The All-in-One loom by KB may be used for either double or single knitting. Noble Knitter makes some boards that, while mostly designed with double knitting in mind, may be set for single knitting.

Single knitted stockinette always rolls at the edges unless purl stitches are interspersed with knit stitches. Double knitted fabric does not do so. Cables and lace are possible with both fabrics. Shadow work is a technique that I invented and is only possible on double knitting.